Step 1: - Before installing a new version of UltraLibrarian software ZIP: 77MB you must
Ensure that you have uninstalled all previous versions of UltraLibrarian on your local machine.
Delete previous versions of UltraLibrarian directory (c:\UltraLibrarian) completely on your local machine.
Download and run the executable in Administrator mode and install the UltraLibrarian software in c:/UltraLibrarian on your local machine.
Step 2: - Enter the desired part in the search box above, then click the search button.
Step 3: - On the search results page, click on the desired part and open the file to start the Ultra Librarian software.

CAD/EDA schematic symbols and PCB footprints are available in the following formats:
Symbols
Altium PCAD (importable by Altium Designer)
Cadence Allegro DE HDL ( Concept )
Cadence Orcad Capture
Eagle
Mentor DxDesigner
Mentor Design Capture
Mentor Design Architect
Mentor PowerLogic
Target 3001
Zuken Cadstar
Footprints
Altium PCAD (importable by Altium Designer)
Cadence Orcad Layout
Cadence Orcad PCB Editor
Cadence Allegro
Eagle
Mentor Boardstation
Mentor PowerPCB ( PADS )
Mentor Expedition
Target 3001
Zuken Cadstar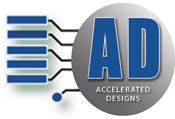 Both PCB footprints and schematic symbols are available for download in a vendor neutral format which can then be exported to the leading EDA CAD/CAE design tools using the Ultra Librarian Reader. The reader is available for free download (ZIP: 77MB).
The UL Reader is a subset of the Ultra Librarian toolset that can generate, import, and export components and their attributes in virtually any EDA CAD/CAE format.
Footprints generated by the UL Reader are based on the IPC-7351 specification (with the exception of DSBGA, QFN, and SON packages which have one footprint only). In addition, the components (both symbol and footprint) can be modified to meet a user-defined standard using a purchased upgrade to the Ultra Librarian.
Providing components based on parametric data through the Ultra Librarian Reader will allow TI customers to reliably create consistent quality CAD entities to an established standard with minimal effort. It is anticipated that this free download service will save TI's customers significant time.
The footprints available in three sizes (based on the IPC-7351 standard for the Least, Nominal, and Most) follow this naming convention: xxxxxx for Nominal, xxxxxx-L for Least, and xxxxx-M for Most. The suffixes 'L' and 'M' indicate Least and Most real estate on the PCB and the name with no suffix indicates Nominal density on the PCB. Footprints for DSBGA, QFN, and SON packages have no suffix and will simply be xxxxxx.
The Ultra Librarian software is a free downloadable reader which allows the user to view the 'bxl' files. It also allows you to export these symbols and footprints in to other CAD tools using the Ultra Librarian software (ZIP: 77MB)
Related Resources